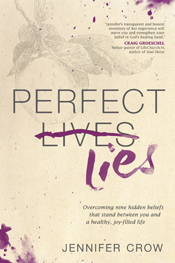 I love it when reading a book becomes an obvious divine appointment!
First, a few hours before I began
Perfect Lies
I was reading another book and singing to myself (and God) and thought that books start their chapters with song lyrics. Guess what? That's how they start in Perfect Lies!
Then it was amazing how there were all these Bible verses in the first few chapters that were ones I'd recently been thinking about!
Also, Crow quoted a different book which I'd requested to review after praying about my choice!
Okay, so in this book I know God wanted me to read, Crow tells the story of her divine healing and introduces the reader to meditative prayer to combat nine "perfect" lies we believe which impedes our growth and ability to fully live in the freedom Christ wants for us.
Crow teaches how to battle the lies and replace them with God's truth. I related to all nine lies, through often not in the primary Crow expounded on. I believe most, and probably all Christians could benefit from this book. I found myself telling my friends about it before I finished it!
One thing I did find harder to relate to was meditating on mental images. Crow asks us to picture an image of the lie, and then transform to align with the Truth (Jesus is the Truth.) I did find an image somewhat helpful, however I think more in words and sensations then visually. While I could picture the Truth, I found it difficult to translate my memories and emotions into an image. Despite this, I believe people like myself can still benefit from Crow's instruction.
I received this book for free from Tyndale in exchange for my unbiased review.
I'd appreciate it if you would vote for me by simply clicking the above button!