Hey friends, guess what? My long-time bloggy friend Kelly has published a book! I did the Bible in 90 days challenge with her earlier this year. It's nice to able to say *I knew her when*... ha ha. So today, I'm turning the blog over to her!
I'm going to admit something to you guys. Something I probably shouldn't, but it's part of who I am, so I might as well.
Ready?
My name is Kelly, and I love reading Young Adult novels.
There… I said it.
Sure, I'm in my thirties and *should* be reading more 'adult' novels (and I do), but there is something about Young Adult novels that draw me in.
I loved reading the Hunger Games and Twilight, even though the more I think about it, the more I have issues with Bella lol.
What about you? Do you love Young Adult Fiction?
What do I love more than reading Young Adult fiction? Writing it.
J
I have three small girls who will be three big girls some day and I want them to have good, Christian books to read when they get older. Not saying that all Young Adult books are either dirty or have bad language, but there is a very, very small selection of 'clean' YA books in the bookstores (even smaller amounts in the Christian bookstores). I think there needs to be a balance for teens who love to read but don't want to read about some of the things in certain YA novels.
And, to be honest, as a parent who loves to read YA books, I feel the same way. There is a definitely a market for it.
I want to contribute to the cause so that's why I love to write YA/Christian fiction. I hope someday that my books will be available in regular/chain stores. But for now, I'm happy with the way things are going.
My debut novel, CROSSING THE DEEP (Astraea Press), is a YA novel that deals with loss, love, and how to handle difficult situations. If you love YA books, Christian books, or even YA Christian books (
J
), I'd be honored if you bought it, read it, and let me know what you think.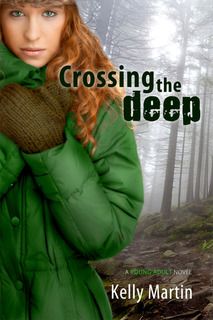 BACK COVER BLURB:
Sixteen year old Rachel Harker expects the church sponsored hiking trip in the Smoky Mountains to be short and painless. Four days later, injured and scared, Rachel prays to just make it home alive.
Asher Jenkins, fellow hiker and handsome skeptic who is only on the hike so he doesn't have to go home and face his abusive 'uncle', finds Rachel in the woods and tries to get her back to Deep Creek Trail. A small hole hidden under the fall leaves causes her ankle to twist and forces Asher to leave her to get help. As night falls, he comes back, unable to find the right trail.
As hours stretch into days, an unexpected rainstorm bears down the mountain, flooding Deep Creek and cutting off their way home. Rachel puts all of her faith in God to save them. Asher thinks believing in God is a waste of time and does what he can to prove to Rachel that He doesn't exist.
With their food gone and the temperature dropping, time is running out. Will Rachel be able to do what needs to be done to get home? And can Asher find faith when he needs it the most?
Buy here:
~Kelly Martin is a writer, blogger, mommy, teacher, wife, sleep deprived lady (not necessarily in that order). She writes young adult/Christian fiction. Her second book, SAINT SLOAN, is coming late winter 2013. For more information on her, please visit her blog at
http://www.kellymartinstories.com/