I have a lot to be thankful for...
I am thankful Ryan's mom is home from the hospital. She had a heart attack on Tuesday morning. She came home this evening. That's what I meant by "interesting" yesterday. I wasn't sure if I should share or not, it's hard to gauge what other people will care about when sharing their news. I wouldn't want someone to find out via my blog and call up all hysterical or something. But now she's home and everyone knows.
I am thankful that Ryan and I are working towards our marriage. We still haven't started premarital counseling. Last week the pastor rescheduled it and this week we had to because of his mom. But we're working together, talking about finances and such. I love that man and I'm getting excited.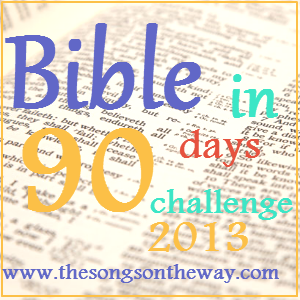 I'm thankful that today is the launch of the Bible in 90 days challenge. We're still accepting more people (there are two free days, so you can even possibly finish the same time as the rest of us, and I'll also make small allowances if you start a couple days later that you can finish a couple days later) but I assume that we've got the group. It's tiny this year, but I was also praying God would bring those who are supposed to do it, so I have to assume it's the right group.
With my wedding coming up and Ryan's mom's heart attack right now might not seem like the "right time" for something so ambitious. I'll have to be reading it on my honeymoon! But at the same time, I feel like it's also the exact right time because it's often when life is the craziest that you need the Bible the most. I remember last year admiring the previous host and several of the other participants because they were busy moms. Myself, I was just an unemployed person with nothing really going on. So it wasn't that hard to finish (though it still took discipline.)
Now, having done it once, I know I can do it and the fact that it'll be during a very busy time in my life just seems to make it sweeter. I haven't really gotten disciplined about my Bible reading since last year. That's not to say I haven't read since then but indeed it wasn't the same, so I'm looking forward to just jumping in.
(Well I say looking forward, but I actually have started. And, even though I've only read the first two chapters, I'm already seeing things I haven't seen before. That's the amazing thing about the Bible. No matter how many times you read it, God always shows you more in it.)
So God bless you all, and what are you thankful for?
I'd appreciate it if you would vote for me by simply clicking the above button!
Linking up:
The Ramblings of Mrs Hargrave,