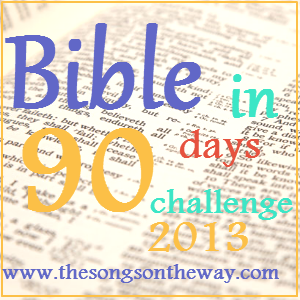 Hello all! For the next three months More than this Monday and the Bible in 90 days check in will be one and the same. This is wholly appropriate because what is "more than this" if not the Bible?
I'm on target. Monday is day five. Of course I'm writing this early Monday morning, which is still superbowl watching time for those readers in America. Being so early I haven't done my day five reading, but I've done the four days previous.
As I mentioned at the launch, I began seeing things I'd not seen before from the very onset. And I'm finding spiritually spending that much time in the Word is already having an impact on me. I'm getting married in the near future, and without trying to on my part I'm finding the Lord is exposing wounds left by men in my past which for the most part I was unaware existed. He's obviously exposing it for healing prior to my wedding so Ryan and I can be healthier in our marriage. Yay for God! I'm so glad I'm doing this.
Genesis is so chock full of stories it's a pretty fast read. I'm very familiar with the book, so the danger for me is not being present with it but relying on things I've seen there in the past. This isn't the first time I've read the Bible all the way through (I think it's the fifth) plus several years ago my Bible study did an intense verse by verse study on Genesis that last two years... and then later this year my Sunday School class took over a year to do Genesis. If there is a book in the Bible I am more familiar with than any other it'd probably be Genesis, though maybe the gospels. This familiarity is both awesome and a weakness in that sometimes we think we know something well enough it has nothing new to show us. So I was trying to be sensitive to the Spirit and listen for new insight, and it did come.
For those of you who are doing the B90 challenge with me, check in below. Are you on target? Have you some keen insight you would like to share? Something funny, sad, etc? Tell us in the comments or if you blog you can link up a blog post about it if you want to...
Want to join us? This is the last call, but if you want to start your 90 days today I'd be happy to send you the reading list and invite you to the facebook group. After today, the group is finalized. We'd be happy to have you!
Not joining us? Link up with any deep reflection from the week if you'd like...