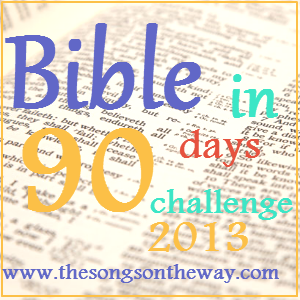 Sorry blog that I've not been posting. It's been stress city here, but I'm coping. The wedding is fast approaching and this weekend was a whirlwind, as it's the only time Ryan, his parents, and I have to work on things.
So yay, it's another More than this Monday and check-in for the Bible in 90 days challenge.
This week has probably been the most stressful week since I arrived here in India. Yes, even more stressful than the worst week of culture shock or last week when Ryan's mom had her heart attack. When she had her heart attack, the world stopped for us and we focused on that. This week we're dealing with the emotional fall out of the heart attack and the rest of the stresses of life.
So basically I'm not surprised that I'm a day and a half behind in the Bible in 90 days challenge. I was one day behind most of the week, but yesterday I went to bed early and even though I read some since then, I haven't yet finished Saturday's reading. I'm happy though to be able to say I am firmly in the book of Numbers and I see looking at today's reading that we're still in the book of Numbers, so I'm not actually a book behind.
One thing that I've been seeing in the reading this week is the immense detail and holiness of God. It's overwhelming. And actually, it makes me a little scared because I know how woefully deficient I am. But the fear of the Lord is the beginning of all wisdom, right?
Hope you guys had a good week and I'm looking forward to hearing how your reading went and what you saw.
And for those of you who decide to link up to More than this Monday, first off, thank you! Secondly I'm sorry last week the link up thingy was acting weird. I was using an old More than this Monday meme so I started fresh this week and it should work right.
Love to you all!