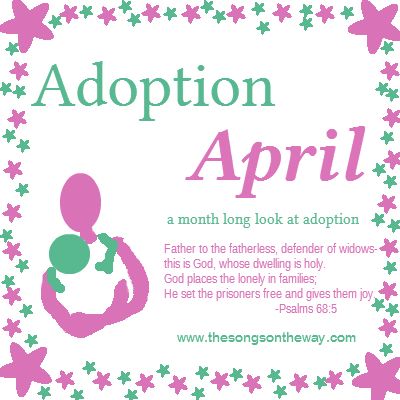 This has been a year in the making!
Okay, so this might seem like a strange announcement if you don't know me personally. I've not adopted nor am I adopted. But I adore adoption and hope to be an adoptive mom someday. A huge amount of the blogs I follow are adoption blogs. I've also done lots of research, hours and hours. I'm constantly finding myself getting into conversations with various people, telling them with passion and excitement about adoption facts and procedures.
So it hit me I should do something constructive with this passion. And as I'm not going to be adopting in right this second (though someday!) I thought I should write a series about the various types of adoption, do interviews with adoptive parents, adoptees, and birth mothers, and whatever else this journey reveals needs to be done.
I came up with this idea in late April 2012. However, I knew it was too ambitious to do right then. And I liked the idea of the assonance (that's alliteration with vowels; I had to look it up) of Adoption August. So I set that goal...
However, life intervened and I prayed about it and I just felt I was too unprepared to write it at that time. So I decided I'd move it back to April, only of course 2013 this time. So, starting April 1st, I'll be posting several posts in the series each week. (I was going to announce this on Sunday, but then I realized that is going to be Easter, so I decided to announce a week early!) I will also keep up with some of my normal postings, but this will be the priority.
I'd appreciate it if you would vote for me by simply clicking the above button!