First of all, I want to say thank you because I just saw that I've now had over 70,000 pageviews. It means a lot to know that people are actually reading what I write!
Today is More than this Monday and of course, the Bible in 90 days challenge check-in.
Bible in 90 day-ers: We're more than halfway through! Yay!
Okay, I'm not. I'm still behind. I actually had a roller coaster week. After telling you last week I was a week behind I kicked my butt into gear and got myself only five days behind by Thursday... but then stressful circumstances had me stop and last night I realized I hadn't completed a day in days and when I checked I was ten days behind. So I had a reading session and now I can say I'm back where I was last week, a week behind...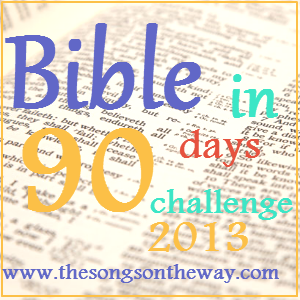 But I'm thinking by next week I'll be caught up because a) the chapters in Job, the current book I'm in, aren't actually that long which is how I was able to do three days last night and b) I remember from last year that Psalms is similar. Last year when I did Psalms I was also behind and before we got out of Psalms I had pulled ahead by several days. That's the plan again this year!
Now for More than this Monday. I actually remember last night lying in bed and thinking of something simple but spectacular to share with you today... and now I can't think of it for the life of me.
I will say that if this week has taught me anything, though, it's that my husband is the man for me. I love him so much!
We've not been married for three weeks yet, but he's already been my rock through sickness and health, stress and leisure. I admire him and love him more now than I did just three weeks ago. He is the one for me, and I am so blessed.
God's also been showing me how much effect my emotions still have on me. God needs to be my rock I cling to in the storms of emotion... and He is, but I just seem to have a fingertip grip. I'd love prayers about this.
Earlier this week I painted the painting above out of a deep emotional processing. I'm an artist and sometimes I just have to do that. I prayed while I painted, and "destroyed" the painting several times, each time just building on a remnant of what was...
I hope all of you had great weeks, and I'm looking forward to hearing how you're doing with the readings/what deep things you've been reflecting on. God bless!