flushed and happy from my run
Hello world! I am in a much better mood than yesterday when I wrote that depressing post. Aren't you glad?
Right now, I have a runner's high. (If you didn't know I was redoing the Couch to 5K, you aren't following
my health and fitness blog
!) I just got back from a run and I feel great.
Yesterday afternoon I was so down... after writing that post, I went to bed. I couldn't even take more than four sips of tea (I probably fell asleep three times before I acheived those four sips!) and I realized this was ridiculous and no matter the time, I needed to go to bed.
So I did, and I slept for a few hours until Ryan woke me up. Apparently our friends weren't coming (he'd cancelled them because I was sleeping!) and they were about to go out for the errands, and should I come or sleep?
I felt so worn out. I just wanted to sleep. But Ryan encouraged me and I prayed and God told me to sit up... and once I did I lost the desire to lay back down. So I got up and went out.
We ended up having to come back to the house twice for things we forgot at home.
But we were able to complete the next step in my visa conversion process (still more steps to go) and get a wedding portrait and an art print I had dropped off for framing, as well as having the tailor who sewed up my Easter outfit (a gift from Ryan's grandmother) to agree to take in the sides (he had it flaring out at completely the wrong place it was entirely unflattering for my figure.)
I also got to go shopping! I ended up getting 5 pairs of leggings (which you wear as pants here with kurtas, which are tunic length shirts) for a lesser price than you can buy one pair of leggings at a different store. It was awesome!
We ended the night out with ice cream.
I was feeling happy... but I still felt some inner sadness. I felt like I was fighting off some depression. Ryan was trying to lift me up, and I was smiling because I felt happy... but still...
So we get home and I eat a little and call my mom and talk to her for over two hours. What a joy that was! Then I talk to Lydia for probably around an hour, and what fun and encouragement! Especially since Lydia has been my spiritual companion and she and I both had revelations from the Lord this week... and she really helped me clarify mine and get some more focus. We prayed for each other as we got off the phone.
Feeling spiritually and emotionally recharged, I was in a good mood when Ryan got back to the room. He works nights, so he wasn't really tired... so we ended up talking... and talking... and talking.
Sharing my mind and heart with my husband is such a delight! We talked about our future home, our aspirations for our spiritual lives, joked about random things, talked about our friends and family, flirted with each other. It was great.
And spiritually, he helped me connect the dots that God has been telling me. Lydia did too. I realize more what He's been wanting me to do!
At one point he and I had an idea about talking to someone who is a facebook friend and I reached over to check my phone and found messages from friends. And one of them, from a reader, was especially exciting. I think I'll talk about that over on
Meaningful Activity
(the health and fitness blog) as it is about health.
I decided to get up and do my run. Then I took out the trash, put in a load of laundry, and made myself a cup of tea. In there, I had a couple of good facebook talks with friends.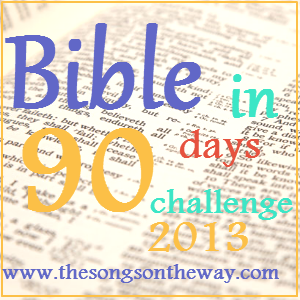 And I just feel so encouraged. God is so sweet. Today I feel like my verse is:
"
weeping
may endure for the night,
but joy comes in the morning.
" Psalm 30:5b
As for the Bible in 90 days challenge, I am in Ecclesiastes, about five days behind. Not great, but last week I was a full week behind, so if I gain two days a week in three weeks I'll be caught up... if not before then!
I'm eager to read what deep things you have to share this week (for me, I feel like I was telling you more how deep things were shared with me then sharing them with you, but it's related, right?) and how you're doing if you're coming along with the Bible in 90 days challenge!