This is part one of my Wedding story. Click here for parts
two
,
three
, and
fou
r.
The night before the 26th, Ryan and I were embracing to say goodnight and he leans back and says, "Wow! You have a gray hair!"
Yep. I found my first gray hair the night before I was supposed to get married. Probably not the most auspicious beginning. It's only a few inches long and I found Ryan's first grays when I arrived from America and had searched my own head to see if I had any without avail, so I think it's grown in since I moved here.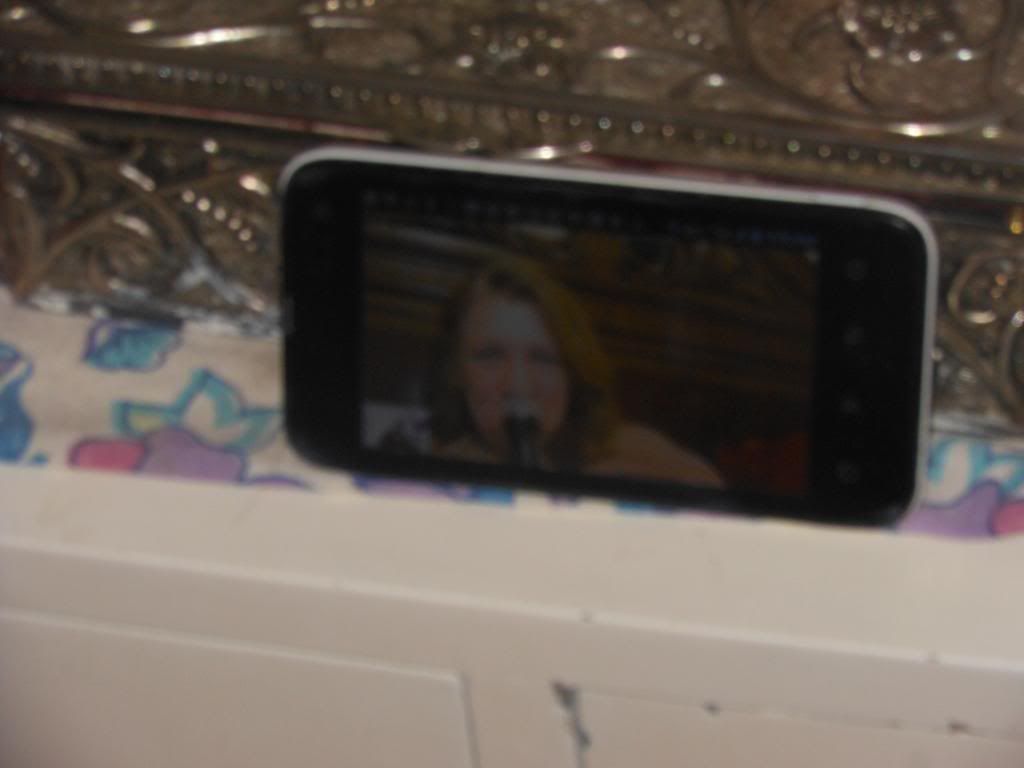 My mom on webcam
I had trouble sleeping, of course, due to the excitement, but woke up at 7 am ready to shower and prepare myself for my wedding (and wedding night.) At 8 something I was trying to connect with my parents. We'd arranged it so I could webcam with my parents during the dressing up and appearing lovely portion of the morning...
I had my first little freak out when my friend Yashvika, who had agreed to come and help me drape the sari, called me up and asked if she could just have our mutual friend drop off some supplies? I began breathing rapidly and said, "Uh... I don't know what to do."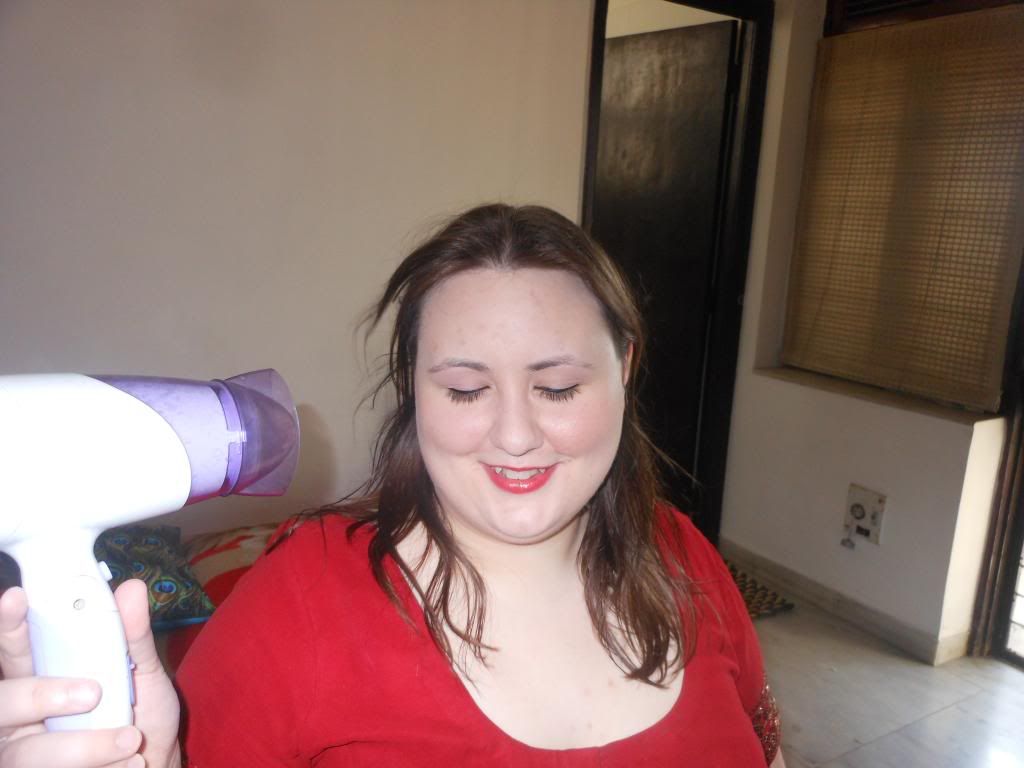 Drying eye liner
"What do you mean?"
"I don't know how to drape a sari."
"Well, Ryan's mom-"
"Ryan's mom never wears saris."
"Oh. Okay. I'm coming, don't worry."
Minor crisis averted.
Yashvika and I then had fun and laughs, especially when we got my parents on webcam. She helped me do my make up... we messed up the liner on one eye and had to wash it off and start over, but in the end I looked great.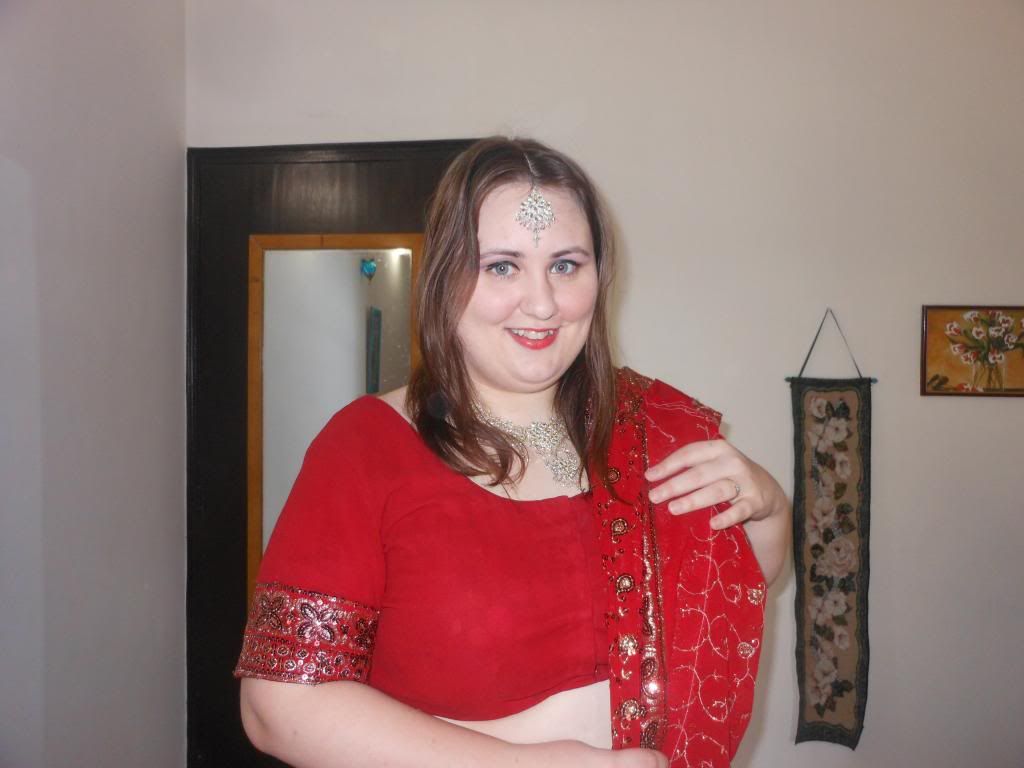 partway through the draping
We aimed the webcam at Ryan when he first got a look at me, so my parents got to share in that moment. And he looked great! He was wearing traditional Indian garb, which is so not his usual style. Actually he'd been going to wear a dress shirt, tie, and slacks but he'd caved to pressure to match my sari. I felt a little bad about that since I chose a sari because later I'm wearing the traditional gown to the church celebration and I like saris and this was an excuse to get a lovely one... I wanted him to like what he was wearing too. But he looked
good
, doesn't he?
My parents were tearing up when we said goodbye, and I got off the webcam with them. We took a lot of pictures. I was excited. We had to be at the courthouse at 11:30 and it was about 10:30...
the bride and groom
Then we were told that the guy who had the legal authority to marry us was out of town and not expected back until the next day.
What?
Was I getting married that day?
Wasn't there someone else at the court who could do it?
What about the reception we had planned for that evening?
What about the hotel room we had booked for that night?
They say that no matter what goes wrong on your wedding day the important part is that at the end of it you're married...
What if at the end of the day we
weren't
married?
To be continued... (tomorrow, I'm not so mean I'd make you wait until next week.)