Today I'm going to start profiling the different types of adoption. I started doing my research in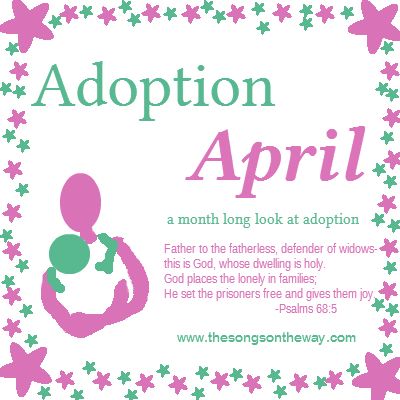 America, so this is mainly for that system, though a lot of it is true all over the world. As I count them, there are five different types: kinship adoption, foster adoption, domestic infant adoption, international adoption, step parent adoption, and embryo adoption. My plan is each of these topics will get at least two posts this month: one post detailing what exactly it is, the other an interview with someone involved in the process (an adopter, adoptee, or birth parent.)
Today I will be talking about kinship adoption. Kinship adoption, also called family or relative adoption, is the most common form in the US and probably all over the world. It is when a relative of the child, but not one of the biological parents, steps up and adopts them. This could be grandparents, an aunt or uncle, step parent, an adult sibling, cousin, etc.
Actually, a connection to foster adoption is that the primary goal of the foster care system is really kinship adoption, that is, if the child is unable to be returned to the natural parents. It is believed that maintaining biological family is in the best interest of the child, and that this would lead to the easiest adjustment. It also is hoped it would keep the child from having an ache inside them where they don't know where they come from... whether that happens in non relative adoption or whether it can still happen in kinship adoption is a debate.
Some challenges that are attributed to kinship adoption are boundaries, especially in cases where the child is taken from the birth parents because they are ill fitting guardians (in contrast to, say, perhaps where the birth parents were only very young or died.) For example, many families may struggle on how much influence a parent on drugs should be allowed to have, while at the same time maintaining the fine line that if they cut off all ties with this family member it could cause their adopted child to resent them.
Kinship adoption often very naturally happens, so the challenge often is making the process legal. Stability can be achieved through the legality of kinship adoption, both emotionally (the child knows this is their parent, not just their relative) and legally (far less chance of the birth parents or other relatives challenging for custody later.) Family taking care of each other is a very good thing, so kinship adoption is often a great avenue for expecting parents who are considering putting their child up for adoption, as the birth parent is very assured of the quality of upbringing and also it often is very simple to maintain an "open adoption" relationship.
At the same time, many birth parents who feel they can't parent may feel that way because of the circumstances in which they were raised, so choosing to adopt the child to an extended family member might go against their motivation.
Grandparents are more and more the ones adopting. Often times these are young grandparents, whose teen children find themselves unable to parent, but there are many reasons why this happens. But grandparents the the most common adopters in kinship adoption. They often struggle with lack of energy and also trouble crossing the generation gap. Children adopted by grandparents may struggle because their parents have different values and expectations than the parents of their peers, due to the generational differences between the parents.
It is also common for relatives to foster the child, instead of formally adopting them. This is especially true with those of limited income, since they may not meet the legal requirements for adoption, but with the government aiding them they can provide familial stability.
Another route is legal guardianship, which is not quite as complicated as adoption.
Still, emotionally adoption is probably the healthiest because of the fact that once adopted, legally the child is treated the same as any biological child would be, and therefore there is very little likelihood that the child's life will be disrupted. All children crave stability, but especially those who have had instability in their past.
People seeking to legally adopt family members would do best to approach an adoption attorney.