As if my Mondays weren't busy enough!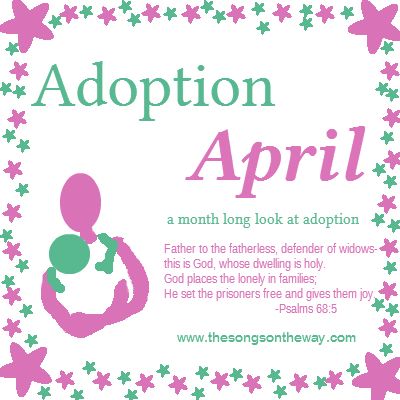 Welcome to April everybody. As I said in my post last week, this is
adoption April
.
I actually don't have a lot to say on the matter today, but I'll tell you what you can expect the rest of the month. I plan on outlining each type of adoption, and then having at least one interview with someone affected by that kind of adoption.
Most of my information will be about adoptions in the US, but I also will post about adoption here in India.
Also, this is a blog.
Not all the posts are written yet. So if you have been affected by adoption and want me to share something for you, let me know. I'd love this to be dynamic. That's the big difference between a blog and other forms of writing. It's informal, public, and dynamic.
Tomorrow I'll be sharing about my own heart for adoption. I also plan on sharing about what the Bible says about it some day this month.
As for More than this Monday, I am totally sharing my Good Friday and Easter posts on the linky. I'd love if you checked them out.
And for the Bible in 90 days, well today is day 61! Whoa! Only I'm only day like 52 or 53. Yeah. Very behind, again. But still plugging along and I know me, and it only takes one day of super reading to catch up, so we'll see.
Where are you in your reading?
Would you join us in posting up some of your deeper thoughts for the month?
Would you like to see something addresses specifically this Adoption April?