Five years ago today, I walked down the aisle... as the maid of honor in my best friend Tabitha's wedding. Today she and her husband Jeremy celebrate their fifth anniversary together.
Isn't she beautiful (I am holding the flowers, cut off on the side there. haha)
Tabitha and I at a baseball game (Jeremy is off getting
refreshments, if I remember correctly.)
Some months back, before I left America I think, but after their fourth anniversary Tabitha and I were discussing this upcoming landmark in her life... and more so, how our lives have changed since then, and how much more they were going to change before this day actually arrived.
And I decided then that for their anniversary I would share a blog post on how both of our lives have changed. First, Tabitha:
Tabitha and Jordan
Tabitha and Jeremy had been together for a year and a half before they got married. They've definitely had their ups and downs and struggles. They lived with her family from the get go, and it made it very hard. Living with the in-laws is really not recommended. For Tabitha, her family loved Jeremy... and recognized Tabitha's faults. So when they fought, they often sided with Jeremy, making her feel alone. Eventually they realized Jeremy too is imperfect and learned to stay out of their fights, but it was rocky for a while due to this...
Early on, Tabitha was diagnosed with polycystic ovarian syndrome, which I also have, after having endometriosis as a teenager. Her chances of having a child got slim. They took fertility drugs trying to conceive, but only could afford a few months...
Tabitha and Jeremy with Jordan at his first birthday party
Then a year later, Tabitha really met Christ and began walking closely with him. Pretty much
simultaneously, she conceived Jordan, their son and first born child, without the aid of drugs.
If that wasn't miracle enough, (a little too) shortly after Jordan was born, she conceived again... her darling twin daughters, Kylee and Natalee.
They will be one in August.
Tabby pregnant with the twins, at her shower
The advent of her children in her lives drastically changed Tabitha's... not that motherhood doesn't change everyone's life, but Tabitha embarked into the role of SAHM, a future she had never envisioned for herself, but one which she and Jeremy carefully sat down and reasoned out made the most sense for them at this time.
After having the girls, Tabitha and Jeremy's life changed again when a few months later, they finally moved out of her parents lives and became the master and mistress of their own home.
They moved near Jeremy's work.
Tabitha with the twins in the double stroller at one of our
favorite places to go, Hatcher Gardens
Their girls had been diagnosed with torticollis and were receiving physical therapy. Natalee recovered quickly, but Kylee needed a helmet. You'll remember that.
Then, just after she got her helmet, Jeremy lost his job. Admirably, Jeremy scrambled and (barely) made ends meet. He worked doing yard work for an old lady while Tabitha sold everything they could possibly find a buyer for both online and at the flea market. Then he found a job loading trucks... only to injure his back on the second day!
Suddenly her husband was bed ridden and Tabitha had babies she couldn't afford daycare for... what were they going to do?
the twins as itty bitty babies!
Blessedly, a combination of friends and creativity (such as selling more stuff, coupons, etc) kept
them together until Jeremy miraculously healed. (The doctors thought he might have a slipped disk, which would have incapacitated him for weeks.) And he found a job, which he adores, and still
has...
Meanwhile, Kylee got out of the helmet and her head issues are resolved.. but she still has other issues. She may need surgery soon. She is officially special needs, and stay-at-home-mommy Tabitha has become a chauffeur to multiple therapy sessions every week between her two daughters.
Tabitha with Jordan a few weeks before I left
Through the struggles of rocky periods, infertility, parenthood, parenthood of multiples, moving, unemployment, and parenting a special needs child, their marriage has definitely been tested... but endured.
Today they celebrate five years and I'm so very happy for them.
As for myself, you've been with me through most of it. I actually started this blog two months after she and Jeremy got married. Back then it was anonymous. I was also working then... with Tabitha, funnily enough. We both worked at the same office for a while. Then I got laid off, and she was too a few months later.
Me holding Kylee before I left
I was unemployed for eleven months. That was 2009, during some of the worst days of the economic crisis. I would apply to places, but rarely heard back.
In the summer of 2009, my ex Eric and I ended in a most dramatic way... and God, through my uncle, let me know something was coming in a year.
In January of 2010 I was hired to work with my other best friend, Lydia, on a website... until it launched. I was migrating content, primarily in two different sections. I loved it. Definitely the best job I've had... but alas, temporary. It ended in March.
Tabby and I
After that I was unemployed for 19 and a half months. It was an incredibly long time... but in June of that year something incredible happened.
I met Ryan on a Christian dating website.
From the beginning we talked 7 hours a day, most days. God revealed in dramatic ways that He intended us for each other (you can read more under the "Our Story" tab at the top.)
My Ryan
All this time, I was living with my parents and life was pretty much the same. Yes, I had different jobs occasionally. Yes, Ryan greatly enriched my life.. but he was in India, so all in all there was a monotony. I had graduated from college a few months before Tabitha was married, so this time period was a distinct, albeit sort of rudderless, time period in my life: post-college, pre-India.
My next job began in November 2011 and was also temporary, as a seasonal cashier. It was
one of the many baby blankets I've crocheted for friends
humbling, hard, and I felt God shape me through it. I hoped to be kept on after the season, but they let me go... telling me to absolutely apply again in March when they anticipated hiring again as I'd done a good job. I did... they never contacted me.
I have not had a regular job since. I've done the random day here or there, (such as when I was hired to clean out roach infested animal cages or when I worked the ticket booth at a local auditorium when they were short staffed) or sponsored post on my blog, but paid work has been an anomaly in my adult life, sadly.
Me, a webcam shot from when I was working on a blog post
One of the hardest parts about that time in my life was watching as my peers seemed to zoom past me into marriage, motherhood, careers and advanced degrees. At one point (when Tabitha was pregnant with Jordan) I had forty facebook friends pregnant at once! And I was unemployed, living with my parents... but growing in the Lord and waiting on His timing.
God knows we need work, and He highlighted my blog to me
as
work, and I devoted myself to it... recently it's suffered as I have different work in addition as a housewife now, but it's been a positive outpouring of effort for me, and I hope a ministry that has touched people.
Ryan and I, together at last.
I also had the opportunity to make time for people in a meaningful way. I remember times, before the babies, when Tabitha would call me needing me at 3am, and it was not a big deal to be there for her. I also was able to make small (cheap) trips I may not have time for as life progresses.
After this, in my life, began the build up to the move and marriage. So much drama and set backs, so many shifted timelines and expectations and plans!
But finally on November 29th, 2012 I landed in
the Delhi airport and met my Ryan for the first time.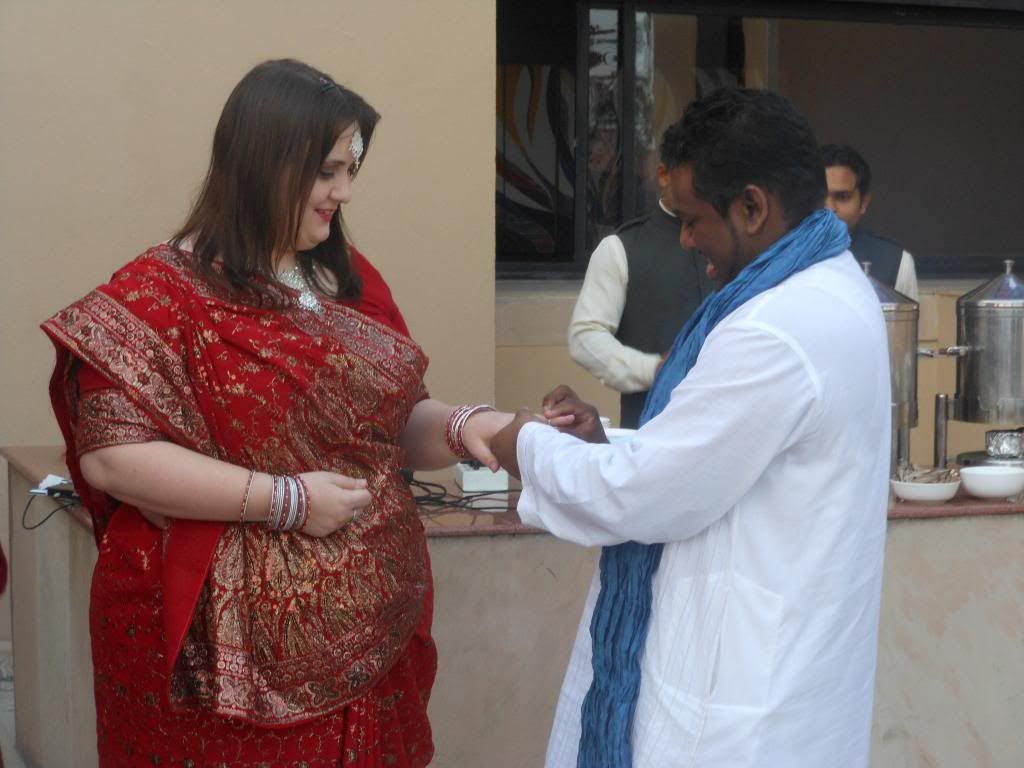 Exchanging Rings!
There has been the craziness of culture shock, the absolute bizarreness of our wedding and the tenseness of living with my in-laws. Then most recently of course there has been the boon and blessing of getting our own home... and the uncovering of faults and flaws in each of us as we adjust to living on our own. While Tabitha is celebrating five years, I'm celebrating four months going on five.
Now I'm adjusting to this new culture, this new family, and this new role in my life as housewife (I can't legally work until after Ryan and I have been married a year, minimum.) I've been spending time considering, pondering, and studying housewifery lately, which I can tell is a blog post in the making.
I'm looking back and remembering those two twenty-two year old girls five years ago and wondering what in the world would they think if they knew where they'd be in five years?
I think both would be shocked by the twists life had in store for them.
Ryan and I on our honeymoon
I also think, having heard the whole scope, both would totally still choose the same path (though maybe we'd have tried to fix a few of our errors along the way!)